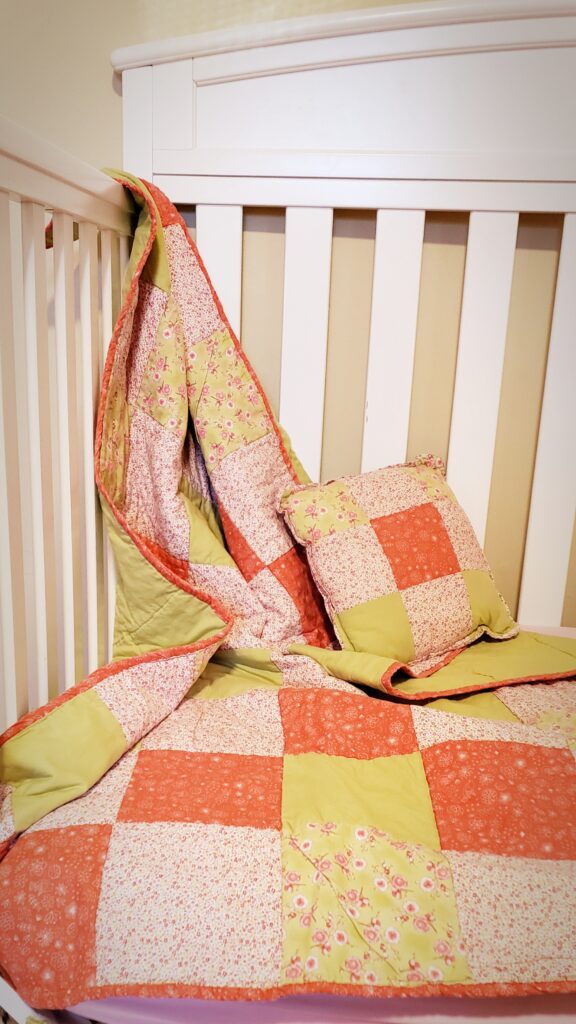 I made my first quilt for my child while I was still pregnant. Not my first child, or second…or even third! It was for my fourth child. I'm not sure why I hadn't tried to make one earlier. I certainly had no more skill at this time than I did in the years prior. Perhaps it was the space and time in my life that I was entering into? Or that I finally had the financial means to purchase supplies? Honestly it was likely a little of both and I am so grateful that circumstance brought me where I am today.
Let me put this right out there, I had no idea how to make a quilt. None. I couldn't really sew anything. I was a new quilter!
YouTube told me that I needed a ¼" seam and I was pretty sure I could eyeball that. I mean, how hard is it to sew an even ¼" without the help of guides or gauges? (Spoiler: It's actually pretty hard when you are not used to looking at things in fractions of an inch.) My mother held years of knowledge and experience as a seamstress who had made quilts. You would have thought I could have paid attention long enough to pick up a few things or even had a brief encounter with a machine for longer than 10 minutes. Nope. So, with the internet at my fingertips and a desire to create something I went out and purchased fabrics, a rotary cutter, rotary mat, one ruler (Creative Grids 6.5"x12.5", which is still my favorite size), a pack of needles, and one spool of thread.
I started the quilt on my dining room table with a sewing machine I had purchased years earlier. With my aspirations to create and $30.00, that Brother Machine came home with me from Wal-Mart. It sat in a closet new in the box unopened for 12 years, waiting for the day I finally came around. To this day, the only stitch I ever used on that machine was a straight stitch
Looking back, it was a hilarious sight. Cutting out squares one by one from the yardage. No efficient cutting methods to be seen here! I lined up the squares more times than I can count to get exactly the right layout. It took me several evenings to sew all the squares into rows and the rows into a quilt top. I seam-ripped and tossed some fabric and recut and walked away in frustration. I painstakingly tried to research what batting is best for a baby quilt. To this day, I just use one batting because the vast amount of choices and opinions are confusing to me.
I pin basted several times trying to get everything to lie flat. I machine bound the quilt sewing to the front first, then wrapping around the back and sewing down from the front. Yes, I caught my finger with the needle. When running my fingers along the wonky uneven binding whose texture delights my daughter, I am not ashamed or embarrassed.
It was a painstaking process. It was my favorite quilt to make.
Each time I sit at the machine, my ¼" gets better and better (mostly because I know what ¼" is supposed to look like). I also use a ¼" foot (without an edge) and an edge guide sticker that sticks to my machine. I try something completely different most of the time and don't even mind having to rip a seam on occasion.
My most creative and most determined quilting experience to date, I learned more from that one project, about myself and the craft, than any other that has come after.
That Brother machine still sits in my sewing room to this day, waiting for its next student, who will be 3 in January. Today marks exactly three years since I completed my first quilt.
My quilting journey started with the first quilt and yours did too! I would love to hear about it in the comments below.